One of the things that I find very important is having a mother's helper for a few hours each week. With four small children at home, a weekly open house supper,homeschooling, church activities and S's busy work schedule I need to have a few hours to think, write, plan, or just work on some of the household projects that are impossible for me to do with "helpers".
I've really struggled with this need- other mothers of small children manage to keep their houses tidy, and do all kinds of activities without a helper. And helpers aren't cheap either, nor is it easy to find someone who can keep up with three very active and inquisitive children.
Last year a good friend of mine helped out once a week and over the summer a high school girl came for a few hours once a week. Both of them did great with the children and were able to not only watch them but also enrich them with art and other activities that I am either not good at or don't have time for. For the last month or so I haven't had a helper and I can see the results in my mental state, so I was delighted when the college girl next door offered to come on Monday mornings for a few hours!
She came today for the first time (of course the children are already better acquainted with her than I am since they talk to her over the fence every time they see her). It was raining and cold (mid 50's) but she was game to take them out for a walk with their raincoats, boots and umbrellas. She's going to do Physical Education with them as she is quite athletic (and none of my children can catch a ball- neither of us is that comfortable with balls and we just don't ever play ball with the children).
I had a set of errands to run so I went off and did that this morning- a huge blessing as shopping with children in the rain is NOT my favorite thing to do. When I returned they were dry, fed and most of all calm and happy. Hopefully this will be a good thing at least through the end of the semester…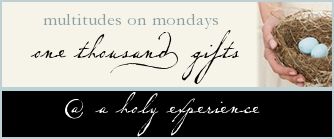 Pin It