Last week was a "no school" week according to our new schedule. I accomplished so much organizing, de-cluttering and so on, but somehow things aren't quite finished. There' always some stuff that trickles around the edges and defies organization, so I'll plug away at that over the next six weeks of school and hopefully be in a pretty good place when we have our next "no school" week.
Today it was time to get back into our school schedule and of course I overslept. Usually Su comes and climbs into bed around 6 am or W wants a bottle so I let them be my alarm clock….of course today neither of them woke up until 6:30!
But still we had a pretty smooth morning and everyone is now down for naps/quiet-time. I'm hoping F will actually sleep as he seems pretty tired..or maybe just over-peopled from going to his cousin's baptism yesterday.
Ann VosKamp over at A Holy Experience is collecting links for Multitudes on Monday so here are mine: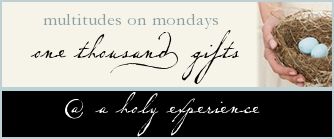 – a safe trip to and from the baptism
– children who behaved really well and played nicely with others
– W is finally over whatever his stomach trouble was last wee
-W having the good timing to be sick on a "no school" week
– friends who came over and moved my "new" credenza, a massive thing upstairs into the schoolroom
– a rapidly growing garden
-good preaching and thought-provoking songs at my brother's church yesterday
– the opportunity to attend the HEAV convention in a couple of weeks (I'm really starting to get excited)
– S's job and boss really suiting his strengths and working on his weaknesses
– grace to have patience and persevere
– serving a God who calls us to joy