Here I am again: no post on Saturday due to the hurricane making the power flicker, and no post Sunday or Monday because I just couldn't get my creative juices flowing enough to write. I couldn't really even think of a topic. I was just too tired, too discouraged by all the mess in the yard from blowing stuff, and the hole in the kitchen ceiling from a roof leak during the storm. Really not such a big hole either, but it means having the maintenance people here (we rent) and watching to be sure they do a good job.
In the midst of this I'm getting ready to send F off to school on Tuesday, and while I think that we've made a good decision that will benefit everyone, I'm really not ready to have him gone five mornings a week. So yesterday I was grumpy. The world wasn't all tidy and progressing the way I wanted it to, the children were still a bit unsettled by trees being down in the neighborhood and changes in schedule, and I was just plain whiny.
Now I get on Su's case when she whines, but do I get on my own? Not really. Oh, I recognize that I'm not behaving well, I even made a half-hearted plea for grace, but it wasn't until late in the afternoon that I was able to repent and ask for forgiveness. And God did forgive and the children did too (oh their sweet words and hugs were so comforting), but I still had to struggle with my attitude, though I knew I had the grace to change.
You see, I had spent the whole day (and really some of the two previous days) pouting and fussing, and I had built up a habit. Yes, we can build up a bad habit that quickly and we all know that bad habits are much harder to change than they are to start. So yesterday God ministered grace by sending some friends by who needed to shower and be fed since their power was still out, by sending a brief email of encouragement from an old friend just before bed, and by giving me a midnight cuddle with W who fell out of bed and couldn't get back to sleep without his Mama.
And today I am determined to rest in Christ and have a good attitude. Pray for me, my friends, parenting is hard, and all of the changes we are going through right now are hard on me as well as the children. I know that in a month we will have a new routine that we are settled in, but for now I need grace….
This week I'm going to be thinking about this- "God is able to make all grace abound towards you, that you always having all sufficiency in all things may abound to every good work." 2 Corinthians 9:8
Linking up late but linking to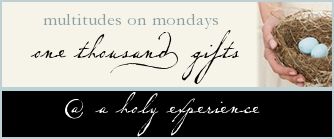 Because truly All IS GRACE…